Ojai, California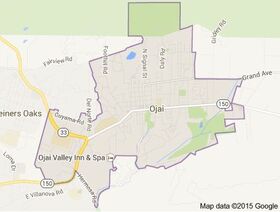 ---
Owner(s)
American government
---
---
Ojai
 is a city in Ventura County in the U.S. state of California. Located in the Ojai Valley, it is northwest of Los Angeles and east of Santa Barbara. The valley is about 10 miles (16 km) long by 3 miles (5 km) wide, surrounded by hills and mountains. The population was 7,461 at the 2010 census, down from 7,862 at the 2000 census.
Beth's stalker takes her to a remote cabin in Ojai, forcing her to fight for her life.
Ad blocker interference detected!
Wikia is a free-to-use site that makes money from advertising. We have a modified experience for viewers using ad blockers

Wikia is not accessible if you've made further modifications. Remove the custom ad blocker rule(s) and the page will load as expected.